The Rhode Island Commercial Fisheries Blueprint for Resilience will be published by the fishing industry in April 2018 as a broad-based aspirational statement about the industry's future. It is the product of a two-year process called the Resilient Fisheries RI project that included 48 interviews, 10 themed workshops, a full-day scenarios-planning exercise, and an extensive industry-based review process. These interactions helped identify seven strategy areas that are key to a long-term resilience effort for the Rhode Island fishing industry:
Public relations
Civic engagement
The next generation
Innovative marketing
Working waters and coastlines
Healthy ecosystems
Adaptive science and management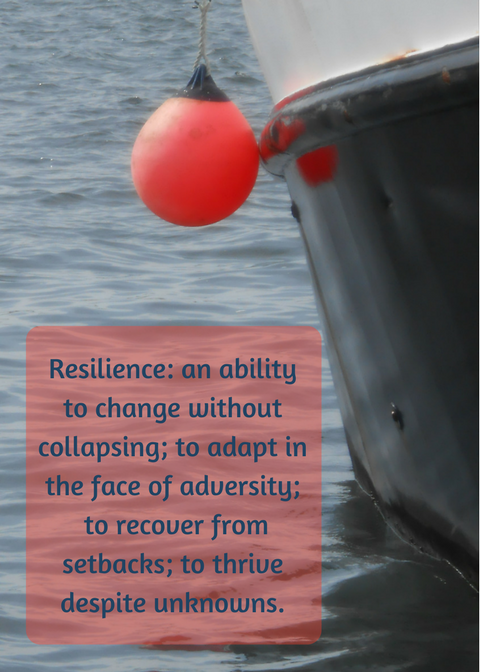 Read & Comment
Members of the Rhode Island commercial fishing industry are invited to read and comment on the draft Blueprint for Resilience between February 1 - March 16, 2018. Click button for details.
Preliminary Reports
These three reports are based on the three sequential phases of the initial Resilient Fisheries RI project, 2015-2017. They weave together the original focus of the project - environmental change adaptation - with new topics identified by fisheries participants through the process. More details on this process can be found in the Background section.
The Resilient Fisheries RI project began with 48 one-on-one interviews, conducted between January and August, 2016. These interviews gathered perspectives on environmental change, vulnerability, opportunities, adaptations, and resilience from a broad spectrum of fishery participants.
Read the Report
The Resilient Fisheries RI project hosted 10 evening seminars between December 2016-February 2017 about specific topics of interest identified through the interviews. Many workshops also included a guest presenter from the scientific world.
Read the Report
The Resilient Fisheries RI project hosted a daylong scenarios planning process, facilitated by the Futures Strategy Group. Forty-five members of the Rhode Island fishing industry took part in the event, which was held at the South Kingstown Land Trust Barn on February 21, 2017.
Read the Report